New Book Reveals
How To Create A Winning
Content Marketing Strategy
In 30 Days Or Less
Get your digital copy for just $4.99… And Claim your Free Bonuses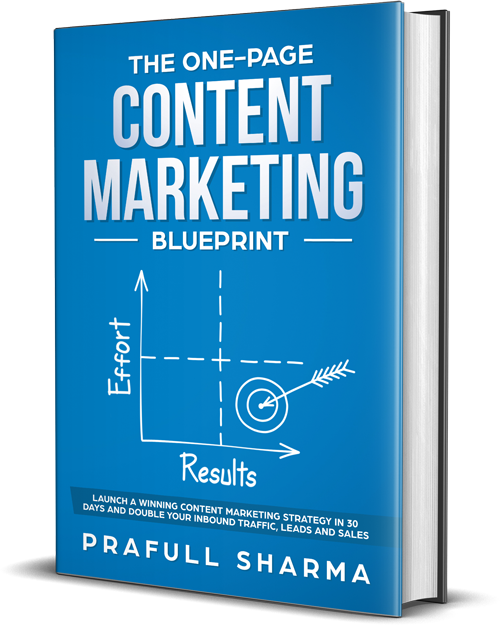 Bonus 1: Printable worksheets to take action as you go along

Bonus 2: Planning templates and checklists you can start using right away

Bonus 3: 44 point cheatsheet to turn your blog into a lead generation machine

Bonus 4: Fill in the blanks content calendar to quickly generate blog ideas for 6 months
PRAISE FOR "THE ONE-PAGE
CONTENT MARKETING BLUEPRINT"
"One page of gold! This book offers a simple and valuable one-page blueprint that essentially guides you on how to create a targeted content marketing strategy to achieve long-term success."
"A well-crafted, well-researched, and insightful book. Content Marketing is challenging, this book equips you with the right tools to drive success."
"Content marketing is not easy…but it's mandatory for innovative and growing companies. The One-Page Content Marketing Blueprint simplifies a complex process so that any company, of any size, in any industry can develop an action-oriented plan that delivers results."
"When brands look for their unique selling proposition, they often don't realize just how much of that resides in their ability to tell a captivating story. If you're not sure where to start (or feel overwhelmed), this book will give you valuable insights into how to think about your brand, and the stories that you tell."
WHAT IS "THE ONE-PAGE
CONTENT MARKETING BLUEPRINT"
Have you been having a hard time coming up with a content marketing strategy that works, this book could be your first step to reaping the potential benefits content marketing can have on your business.
So, what's in it for you?
THE FASTEST PATH
TO CONTENT MARKETING SUCCESS
When I say this, keep in mind that I am not claiming that you're going to get a tsunami of traffic, leads, and sales overnight. This is not one of those dishonest, overnight success ploys.
Here's the reality: content marketing is a marathon. It takes time and perseverance to get where the successful content marketers are. However, this book will show you the fastest way and the shortest route to run this marathon.
It's not a giant read, although it's not a super quick one either. In the book, you will be guided through different content marketing principles that form the core and pillars of every effective content marketing campaign that you see today.
10 THINGS THIS BOOK WILL TEACH YOU
1. The One Page Content Marketing Blueprint
Learn the exact process to move 95% of online shoppers from "not ready to buy" to a "paying customer".
2. The Buyer's Journey Framework To Find Content Ideas That Works
Keyword research framework (only a few are using) to find search terms that attract your ideal customers and prospects.
3. The R.E.S.U.L.T.S. Framework
The #1 strategy that you need to produce high converting blog posts that generate results…
4. 4 Types Of Lead Magnets & Which Type Is Right For You
Lead magnets that grab more eyeballs than all the market research-driven fancy content pieces combined.
5. How To Create Authority Content That Brings Sales
The "secret ingredients" you can use right away to make your BOFU content 10x more effective.
6. 5 Part Evergreen Email Nurture Sequence
The battle-tested formula that works best to drum up interest for your offer and convert leads into opportunities.
7. 10-Step Guest Posting Success Strategy
How to catapult yourself or your business to celebrity status with a proven 10 step repeatable formula.
8. The 5 Point Forum Formula
A simple framework that you can implement to generate more traffic, leads, and sales FAST.
9. The Content Marketing Success Roadmap
Learn the 4 stages of launching and scaling a successful content marketing program.
10. 3 Steps To 2X Your Results
A simplified look at your entire content marketing strategy in one simple and proven path!
WHAT PEOPLE ARE SAYING ABOUT
"THE ONE-PAGE CONTENT MARKETING BLUEPRINT"
ON AMAZON.COM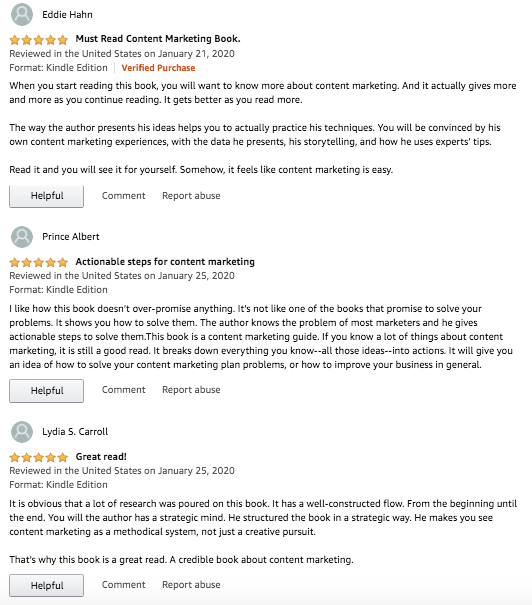 You really are getting this book and the bonuses for just $4.99.. There's absolutely no catch. No gimmicks. No hidden fees.
In case you're wondering why I'm doing this, Here are a few reasons…
1. It's my way of saying thank you for being a dedicated subscriber.
2. I want you to be successful at content marketing without the wasted time, wasted money, and unnecessary frustration.
I want you to learn from my mistakes, and follow my blueprint (this book) so you can successfully create a winning content marketing strategy in record time…exploding your sales, your business, and your authority.
3. I get one of my products in your hands… and when you see how awesome it is, it should get you excited to buy other products from me in the future.
GOODREADS REVIEWS FOR
"THE ONE-PAGE CONTENT MARKETING BLUEPRINT"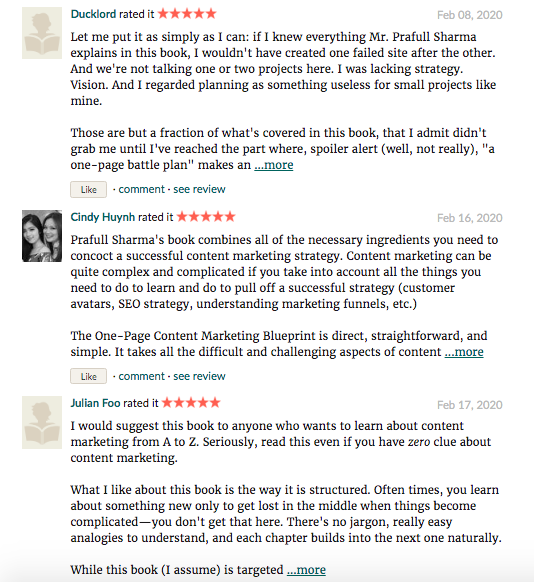 THANKS FOR READING,
YOU HELPED EDUCATE A CHILD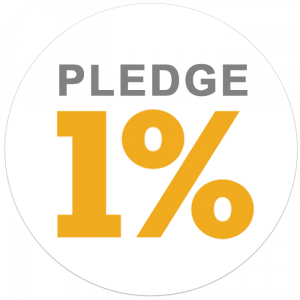 Whenever you buy the book, take LeadsPanda services, or otherwise, contribute to our work, 1 percent of the profits are donated to education-focused charities to support them operate effectively towards their mission.
Prafull Sharma is an entrepreneur, marketer and technology expert. He has successfully launched and grown businesses in marketing and technology domains. His work has appeared in TechCrunch, Social Media Examiner, Business Insider and Economic Times. Over the past 7 years, he has helped hundreds of business of many sizes: from well-funded startups to large enterprises, 2X their content marketing results.