Content writing is one of the most interesting, creatively fulfilling, and satisfying jobs that you could possibly have. Through writing you can learn about new topics and ideas while you explore different perspectives and draw new insight, express your opinion, and exercise your imagination. 
But it can also be one of the most frustrating careers you can get into. When your profession demands that you churn out well-written, high-quality content regularly and consistently, it starts to feel tedious and monotonous. Eventually, this will affect your productivity.
Thankfully, technology has given us tools that we can rely on to make us more productive. The options we have are quite diverse, too. Some help us jumpstart our creative juices when we feel stuck, while others can help us focus better on the task at hand. Whatever you need, there's probably a tool you can use to help improve your content writing productivity. Here are our top tools for you to try. 
Answer The Public is a great online tool that helps you figure out what your audience wants to read. It's especially useful for content marketers who are exploring a specific topic and want to drill down to article subjects that are more specific and relevant to their audience.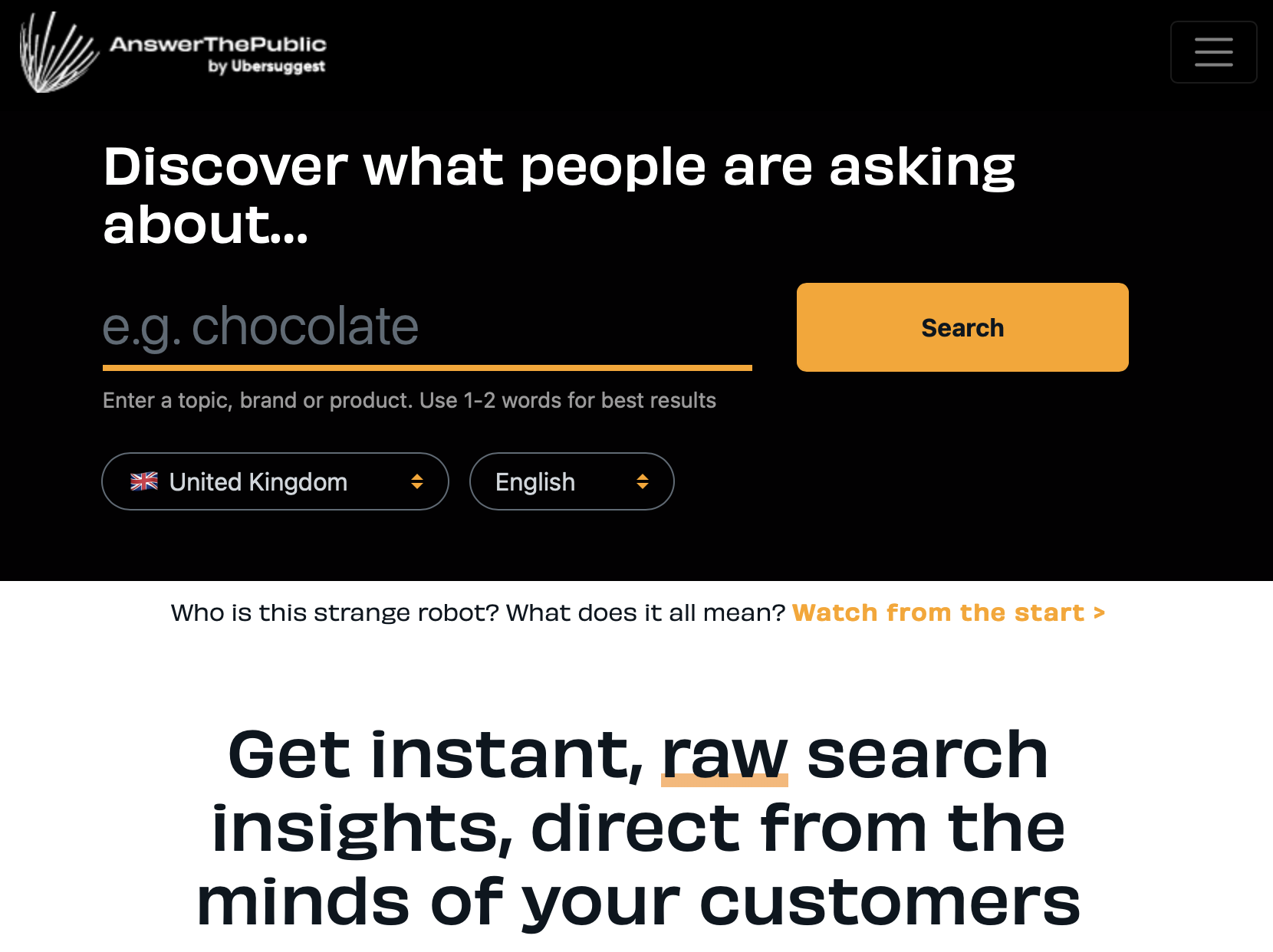 You type in a topic, brand, or product, hit search, and it will pull up questions that audiences are asking about that particular subject based on findings from different search engines. It's a goldmine of consumer insight and perfect if you want tips for topics that your audience wants to read and to get ideas on interesting angles for your niche articles. 
UberSuggest is a free Chrome extension that works as a powerful SEO tool. It provides comprehensive keyword research through a simple and straightforward platform that can help you create better content. It allows you to easily structure your articles so you rank higher on searches. 
The tools here can deliver insight on search volumes and even provide topics that others in your industry or niche are choosing. Again, if you're not quite sure how to find the best articles for your target audience, this is a great tool to try. 
As a content marketer, you know just how important headlines are to any content that we produce. Remember, 8 out 10 people read headlines, while only 2 out of 10 will read the rest of the article. 
Coschedule Headline Analyzer is a very straightforward tool that can help you write better headlines. You simply type in your proposed headline and it will give you a score so you can determine how effective it is. It can even show you common or uncommon, emotional, or powerful words that you can use to make your heading more impactful. 
Grammar is a very important facet of writing that you should always pay attention to. It's very difficult to exercise creative freedom when you're constantly worrying about whether or not you should be using the Oxford comma. 
This is where Grammarly comes in. Grammarly's free version will help you make sure that you're writing error-free, grammatically correct articles, but if you sign up for the paid version, you get more in-depth analysis that helps you improve your writing style. 
Focus Keeper is an app that's available on both Apple and Android that can help you be more productive by keeping you focused on your task. Simply pick a task—for example, finish writing an article—set a timer, and you can work on that specific task until the timer ends. The app basically lets you spend 25 minutes working on that task alone, no multitasking, and after the 25 minutes are up, you can take a brief break before you start another 25-minute round. 
Most people think Hemingway Editor is similar to Grammarly, but its purpose is to improve your article's readability by polishing your writing. 
If you're using it in editing mode, it shows you how hard your article is to read in terms of several factors such as reading time, length, and word choice. It even highlights potential problems with your article such as sentences written in passive voice, or complex words that you can replace with simpler alternatives.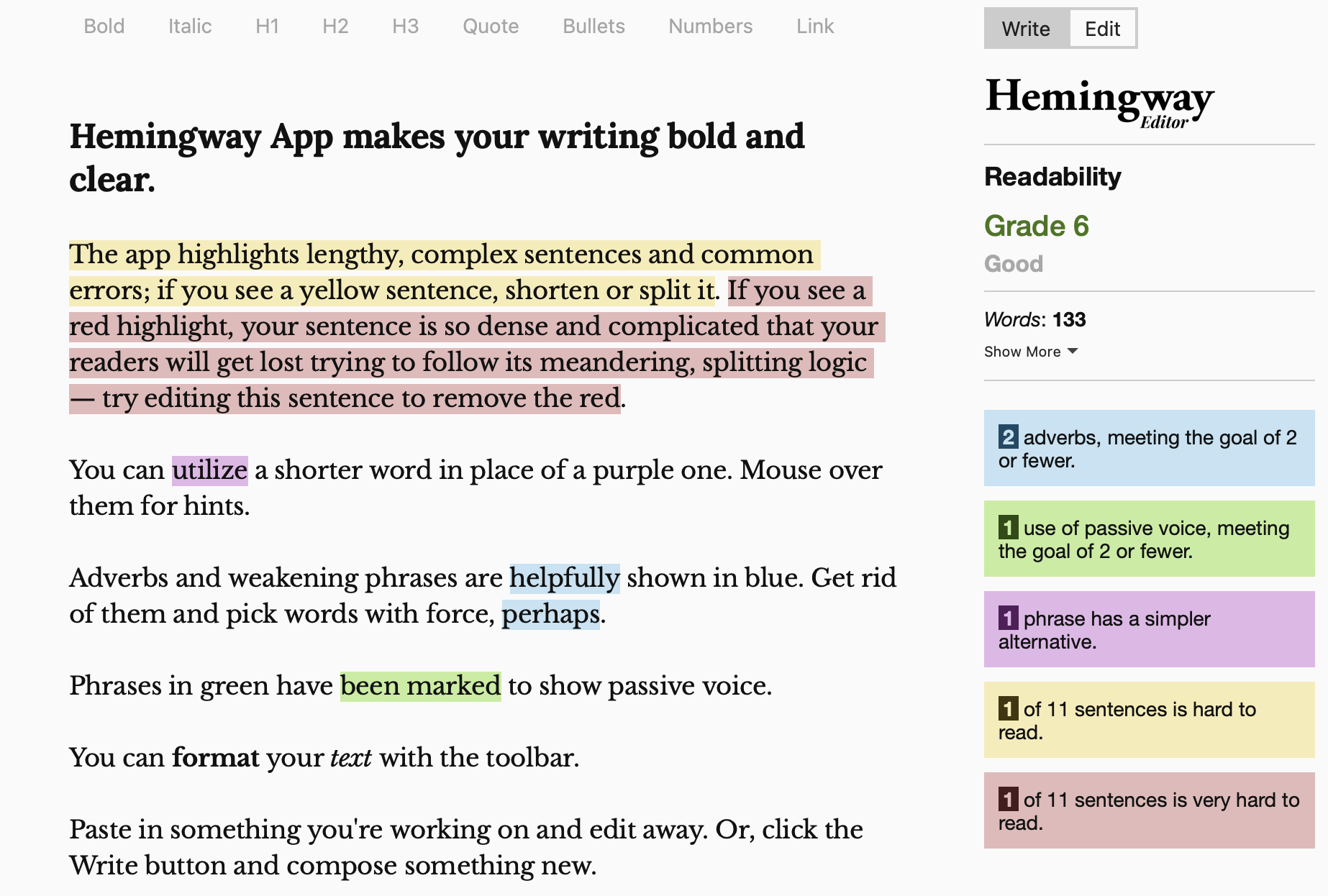 If you've built a career in writing, then you know that by hook or by crook, you need to write a certain number of words each day. 750 words is a tool that's meant to help you create a habit of getting actual writing done. 
While it was built to be a freewriting tool that functions like a journal, it also helps improve your writing style by giving you pointers and showing you how much time, it took to write your article…and how often you got distracted.  
When you have to come up with new articles every day, it often feels like you've already exhausted all your angles and options. 
Hubspot's Blog Idea Generator is a great tool to help with writer's block. Simply enter nouns in the search box and once you hit enter, the tool will suggest several topics and you just have to choose one that you think your readers will like. While it won't give you an extensive list, it's enough to give you a good starting point when you're stuck and don't have anything to write about. 
Have you tried any of these tools? How well did they work to boost your productivity? If you haven't, give them a try and let us know if they worked well for you. 
If you want to learn more, reach out to us. Book a consultation or get started with LeadsPanda to find out how we can help you. 
For any questions, leave a comment below or check out our LinkedIn or Twitter.