On any given day, the average online user spends 2 hours and 27 minutes on social media.
Still, no matter how often you use social media for personal reasons, maintaining social media business pages to grow your brand is very different. Making your business stand out is already challenging enough before you consider trying to maintain your edge in an industry that's constantly evolving and changing.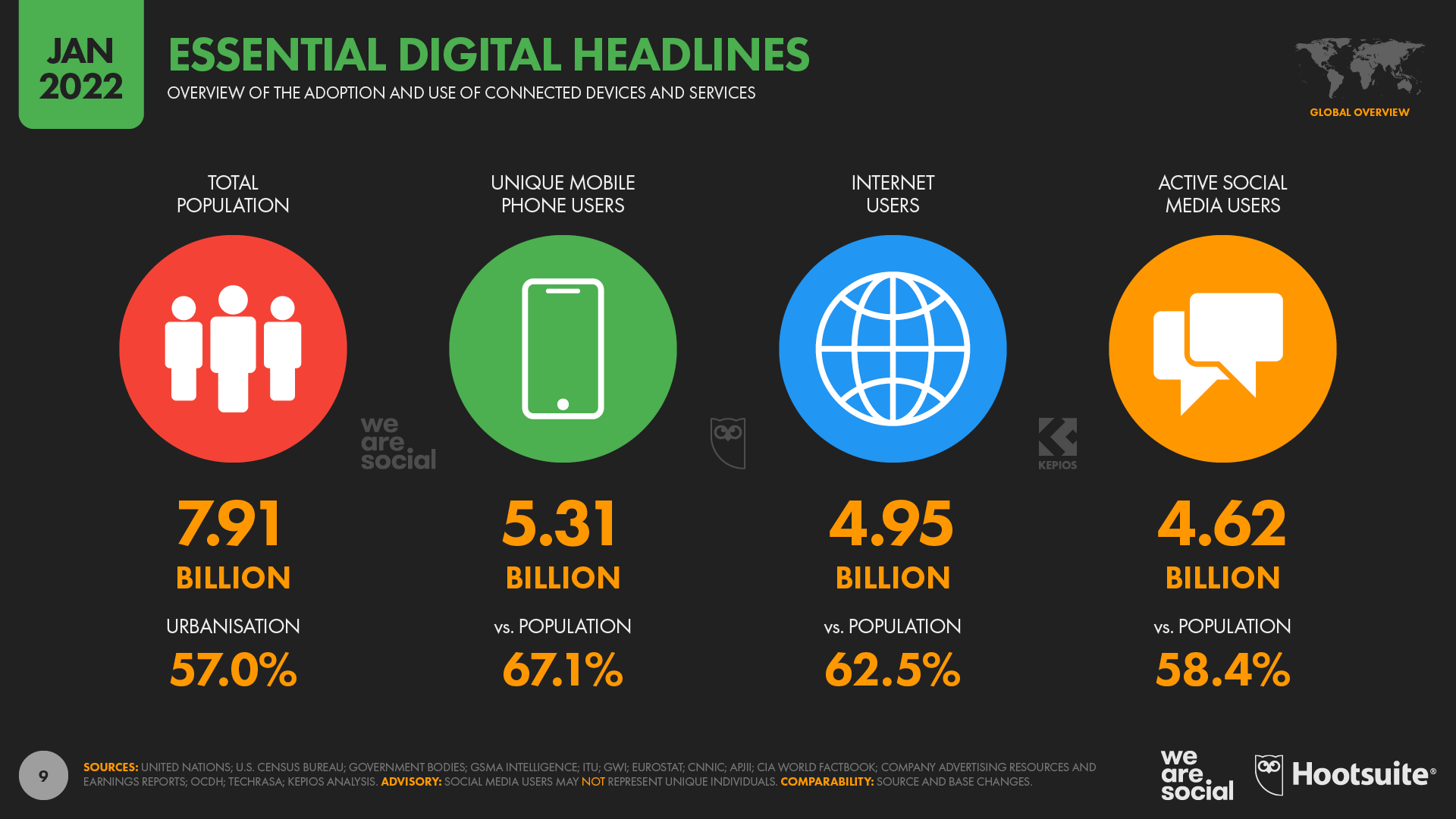 Image Source
To that end, we wanted to round up the most important social media trends that you need to be paying attention to today.
1. TikTok Is A Platform You Should Definitely Be On
Facebook, YouTube, and Instagram will always be firm favourites when it comes to video, but Tiktok is definitely moving up the ranks. The popularity of short-form video content has earned this particular platform a solid foothold in social media and content creators can easily produce videos to engage and entertain audiences. 
Additionally, TikTok has launched a number of useful business tools designed to simplify advertising and visibility on the platform. It's truly poised to become an important social media network with a significant millennial and Gen Z audience—and a growing reputation among older generations as well. 
2. Niche Social Media Network Ads Are Slowly Gaining Popularity
Typically, content marketers focus the bulk of their advertising budget on major platforms like Facebook, Instagram, Twitter, and YouTube. However, niche social media networks are starting to gain more credibility among businesses, so marketers are now running ads on platforms like Pinterest and Snapchat.
On Pinterest, advertising can potentially reach an audience of 200 million and the platform is projected to add more countries to its ad targeting portfolio. Snapchat advertising statistics have also shown a significant rise in advertising audience.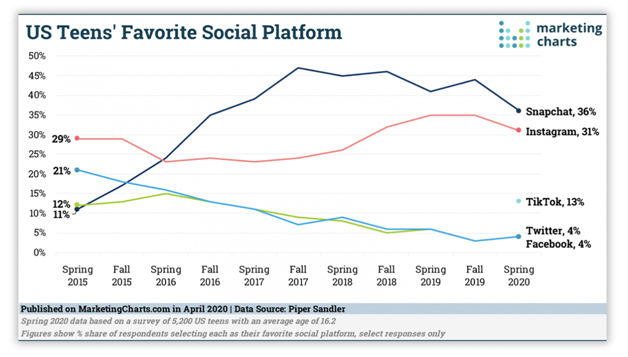 Image Source
Bear in mind, Apple has recently announced that it will implement a feature that will block the ability to target specific user segments. This will prompt businesses to seek other ways to reach their target audiences.
3. Social eCommerce Will Continue to Grow
The pandemic boosted the rise of shoppable posts across multiple social platforms. From Instagram Storefronts to Facebook Marketplace, social networks are following suit and making an effort to evolve to accommodate retail and eCommerce in their platforms. This means brands and marketers should make a bigger effort to leverage all these opportunities to sell directly on their posts—and should include this in their sales strategies moving forward. 
The goal is to provide a frictionless shopping experience for your audience and give them a chance to discover and learn more about your products without having to leave the page and visit a different website. 
4. Video Will Maintain Its Popularity
Video content has been dominating social media for a while now. In fact, half of all users on social media now say video is their preferred content medium and 85% of users want brands to create more videos. 
This means that if you want to boost engagement and stay relevant among your core audience, you have to find ways to incorporate video into your content marketing mix—and social media is an ideal way to share it. 
Thankfully, creating videos has gotten so much easier in recent years thanks to the continuous evolution of technology and apps. Shooting, editing, and uploading video content can be done on your smartphone, and if you choose the right platforms to upload them, you can capture the attention of and engage your primary audience in a snap.
6. Augmented Reality Will Gain More Traction On Social Media 
Advanced technologies such as augmented reality will be used to create more engaging experiences on social media. The popularity of platforms like TikTok, along with the expansion of others like Instagram and Facebook to include short-form video, is making it possible for social media to offer more immersive content experiences. 
Expect to see social media platforms find interesting use cases for augmented reality in the coming years through filters and improving the shopping experience of users. With augmented reality, brands can provide a better shopping experience that will allow customers to "try out" products before making an actual purchase. 
7. Influencer Marketing Will Gain More Credibility and Continue to Grow
Influencer marketing may not be a new concept, but the credibility of influencers will grow and dominate as social media continues to evolve. Expect brands to invest more in partnerships and dedicate larger budgets towards influencer marketing with the intent of generating significant leads and more conversions.  
There's also a stronger focus on tapping smaller and more niche influencers with a highly engaged core audience versus establishing partnership deals with one major, highly prominent celebrity influencer. This kind of strategy delivers better ROI for smaller businesses and guarantees better engagement. 
The challenge is in identifying which influencers will be best for your business and establishing relationships with them. But it's something that content marketers can definitely work on and build over time. 
Choosing the Right Social Media Trends for Your Business
No matter how many trends develop and how many new platforms gain popularity, more established platforms like Twitter and Instagram will remain important and should always be included in your marketing mix. So, while you expand your social media mix to include new platforms, don't neglect the more established ones. 
If you want to learn more, reach out to us. Book a consultation to get started with LeadsPanda to find out how we can help you. 
For any questions, leave a comment below or check out our LinkedIn or Twitter.