If you're in the content marketing business and you're reading this blog post, then you probably already know that blogging isn't as easy as it seems. 
Just getting your target audience to read your first line takes a lot of time and effort. Keeping their attention so they check out the rest of what you have to say is even harder—and we haven't even gotten to the part where you want your readers to share your post. 
The way you structure your blog post has a lot to do with how successful it will be. How you create, write, and format your post all affect how well you establish your company's credibility regarding your subject matter and grow your thought leadership in your niche. Your communication style can show potential customers that you care about them beyond trying to sell your products or services. 
How do you do this? By learning the anatomy of the perfect blog post. By writing a post designed to capture people's attention and help drive the results you want. 
1. A Hot Headline
Your headline is one of the most important elements of your post. It's the first thing your audience sees and it's the main deciding factor in whether your blog post seems worth their time and effort. Studies as far back as 2013 show that traffic can vary by as much as 500% due to your headline alone. Not much has changed since then. 
Headlines must be designed to stand out and capture the attention of the reader. Statistically, it's best to limit your headline to six words or so. And take note that the first and last words are the ones that catch the attention of the audience most, so you want them to resonate. In terms of SEO, when a headline is too long, search engines tend to cut the title of your post. 

Image Source
2. An Interesting Introduction
After you've managed to capture your audience's attention with your headline, their next logical step is to check out your introduction. 
This is critical—at this point, they will decide if your article is really worth reading. You have to be interesting yet relevant, informative, but never boring. 
For a while, clickbait dominated headlines and intros online. But online audiences have since matured and caught on to this gimmick. This is why we always advise our readers to avoid ambiguity and get to the point fast. 
Following a traditional SEO strategy, this means writing a brief, catchy introduction with just a few sentences that are rich in keywords and match the expectations of your target audience. If you promised to give them tips and tricks on how to write the perfect blog post, you'd better be able to give them tips and tricks on how to write the perfect blog post. Don't leave them confused and wondering if they're on the right post or they're likely to bounce.  
3. Captivating Main Body Copy and Subheads
Assuming you've captured the attention of your readers and they're interested enough to continue through the rest of your article, your next goal is to make the entire experience valuable for them. 
Traditionally, the main body copy will be composed of large chunks of text that go into full detail about your subject matter. If we follow the typical advice doled out by SEO experts, the ideal blog post length is currently said to be 2,100 to 2,400 words. Yet the same SEO experts (in this case, Hubspot) note that a third of their most read and popular posts are under 1,500 words. 
So where do we stand on word count? It depends. The more important thing to focus on is writing something of value that's relevant, well-researched, and high quality. Don't think too much about word count. You can always work on other SEO best practices to help boost your searchability, such as good backlinking techniques, ensuring alt-texts are in place, using a great keyword strategy, and working on your domain and topic authority. 
Now, how else can you make the reading experience more engaging and easeful for your readers? By dividing up your main copy into subheads.  
It would be nice if people read our posts from start to finish, but the reality is, they're likely skimming through. Instead of forcing readers to trudge through walls of text—and increasing the chances of them bouncing off your page—focus on formatting your posts so it's easy for them to skim through them.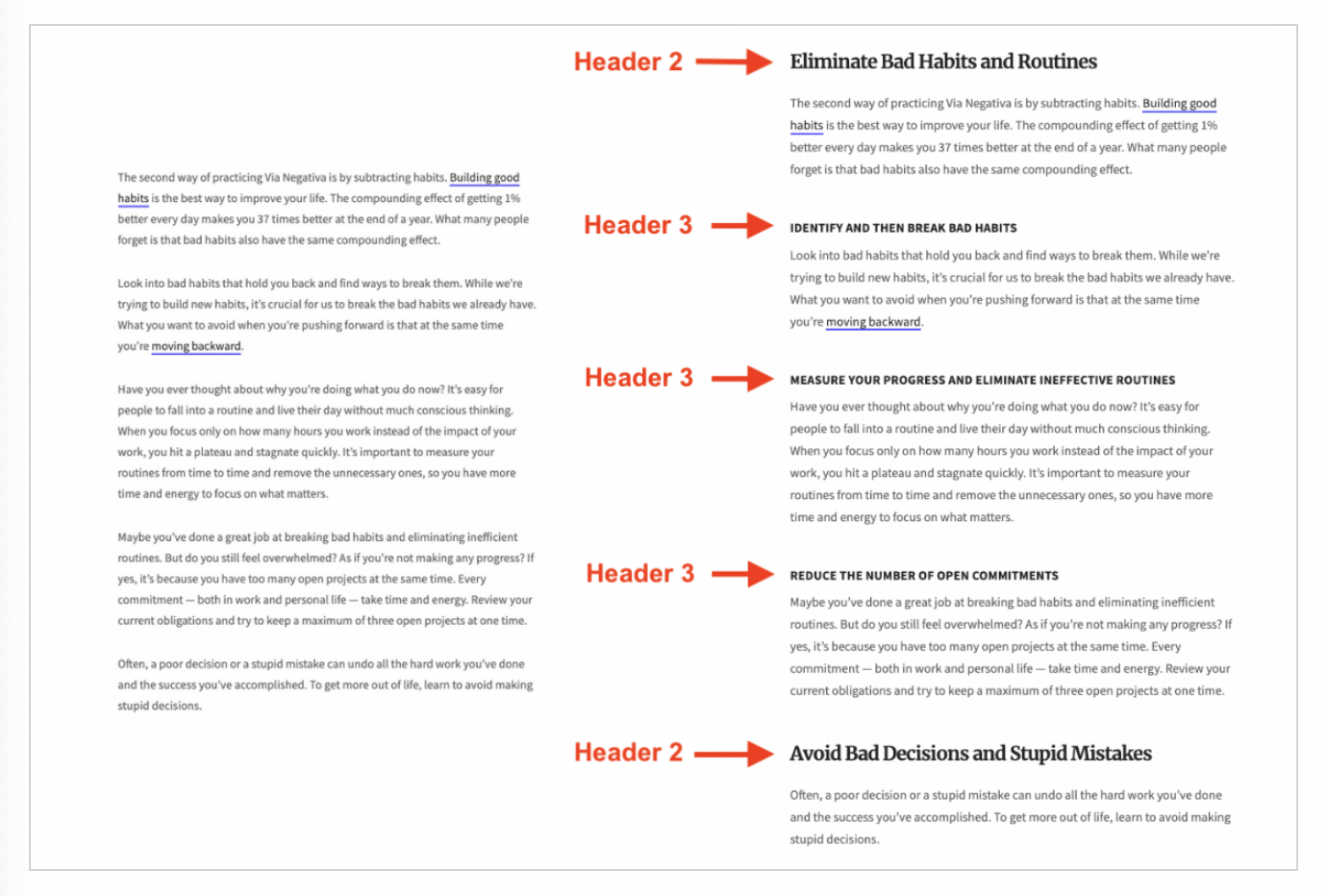 Image Source
 By breaking up your content into sections with subheads, you increase the readability of your text and help bots understand what it's about, which will help your SEO. 
Remember to keep paragraphs short and sentences succinct. Here's a great guideline to keep in mind: write as if you're talking to a friend you're having coffee with. Use a friendly tone and tell a story. You're not writing a research paper. 
4. Compelling Visuals
The human brain can process images 60,000 times faster than text—make the most of that.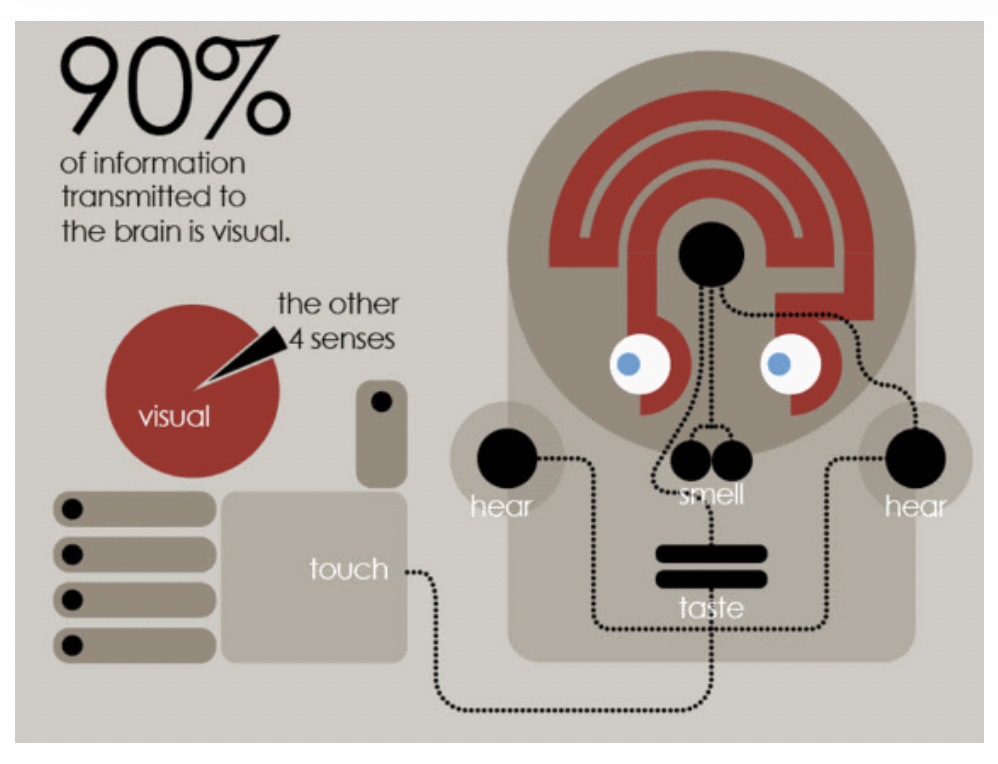 Image Source
 Not only do visuals help break up content into readable, bite-sized, skimmable pieces, but they can also make your post more memorable.
When it comes to choosing images, videos, or illustrations that you include in your post, make sure they're relevant and of high quality. If you're choosing one that isn't yours, make sure you credit the source. This will also help add credible backlinks to your posts. 
5. An Inspiring Call-to-Action (CTA)
You wrote your blog post for a reason, so spell out that reason for your readers. 
Make it clear why they spent all that time reading. Let them know what their next steps are.  
There isn't a set maximum number of CTAs for a given post, but don't pepper your entire post with them, either. You want to make your CTA simple so you won't encounter resistance from your reader. If you want them to get in touch with you, provide a link. If you want them to leave a comment, be clear and say so. If you want them to share the post, provide sharing buttons. 
Blog posts have to strike a balance between strategy and creativity. Following these guidelines will make a big difference in how many people find your posts, read them from start to finish, and take the action you want them to take. 
If you want to learn more, reach out to us. Book a consultation, or get started with Leadspanda to find out how we can help you. 
If you have any questions, leave a comment below or check out our LinkedIn or Twitter.   [/fusion_text][/fusion_builder_column][/fusion_builder_row][/fusion_builder_container]