5 Essential Content Marketing Hacks to Boost Productivity
If content marketing is a big part of your overall marketing arsenal, then you know how powerful it is.  
Through content marketing, you can drive awareness, inform, generate leads, build trust, and boost traffic for your brand or business. Like any marketing technique, if you make sure it's backed by a solid strategy, you will definitely reap significant returns for your efforts. 
As the industry evolved through the years, best practices were studied, explored, and shared. In the process, we have learned a few content marketing hacks that make critical processes more efficient and productive. 
Implementing these time-saving techniques can give you and your team more time to craft content that's truly relevant and engaging. Take a look at some content marketing hacks worth trying below.
1. Create a central knowledge bank for critical information and insight
It happens. In content marketing, you end up researching the same topics over and over again. You don't really notice how much time you waste on this until you finally bank all the references and data that you find useful for content marketing. Think of it as your central library for all things you could use in the future.
From relevant articles to studies, statistics and research papers, ebooks, whitepapers, images and videos, interview transcripts, publication guidelines, and other miscellaneous notes—make sure it's all filed and organized in one place, accessible with just a few clicks. 
LeadsPanda Tip:
It's best to organize your knowledge bank in a way that makes the most sense for your organization and can be easily understood by your team. Try going by source if you tend to follow and use the same references for your material. However, it's best if you can find the time to organize it by topic or by category to make everything easier to find. Saving it on a cloud-based platform also makes it easier to access and catalog.
2. Map out your entire content strategy before starting anything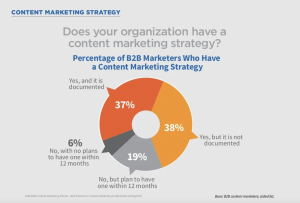 Image Source
Mapping out your entire content strategy and keeping it organized will save you a lot of time in the long run. This includes documenting your entire process and outlining all the forms of content that you want to produce, and how you intend to produce them. Next, identify your goals. What is critical to ensure you maintain a laser-like focus on your objectives and take the necessary steps to follow through (e.g., meeting expected timelines)? 
You should also create customer personas of your target audience, with comprehensive reference points for all your key performance indicators.  
LeadsPanda Tip: 
Your strategy doesn't have to be complicated or complex to be credible, but it does have to be comprehensive. Keep it simple. More importantly, keep it accessible. Make sure your strategy, including your timeline calendar, can be edited by key members to help save time and minimize back and forth. 
3. Use a content calendar to organize your content
Creating content on the fly is not going to take off. This will only lead to repeats of your content. You will also end up forgetting what has been posted, which leads to missed timelines and missed social media marketing opportunities. Create a content calendar that details information such as topic summaries, titles, keywords, and other important data that you think is needed to ensure your content is created in a timely fashion. 
Video content, blogs, images, and infographics are the top media formats. (Image Source) 
LeadsPanda Tip:
Again, it's important to make sure your writers and editors all have access to this document. Make it accessible via the cloud and editable in real time to avoid versioning issues.
4. Outsource your content production
As much as you'd like to do everything yourself, it's not always possible. If there's one thing you can outsource, we suggest outsourcing some form of your content production. Whether it's writing or video production, social media marketing or graphic design, doing so will give you more time to focus on more high-level work to keep your business competitive.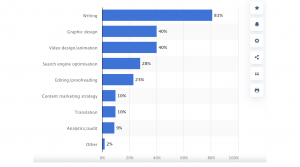 Types of content creation services outsourced by marketing professionals worldwide. (Image Source)
LeadsPanda Tip:  
If you're worried about the consistency of style and messaging, create a style sheet and detailed outline. Include them in your content calendar so your outsourced team or person will have a clear reference on how you want things done or written.
Include structural guidelines and ideas, even references they can use. Use a bullet list format so your guidelines are concise and well-communicated.
5. Check in regularly with your team
Don't wait until you have fires to put out before you communicate with your team members. Maintain an open line of communication so team members feel comfortable enough to raise questions and clarify the points that need to be addressed. You'd be surprised at how a simple weekly touch-base can help save everyone time and make things more efficient. 
Remember, lengthy meetings tend to be counterproductive, so be sure to keep your check-ins brief and to the point. Set an agenda to keep everyone on track.  
LeadsPanda Tip: 
If you have the option to use a centralized project management tool, do so. This makes sure everyone is on the same page and gives you an overview of where everyone is on their to-do lists. Most will also offer an option to let you coordinate chats and messages according to tasks or topics, which minimizes the need for meetings and simplifies coordination and communication. 
If you're suffering from a productivity slump, be sure to give these five content marketing hacks a try. You'll notice a difference in how much faster you're able to produce your content and how your content quality has improved. 
If you want to learn more, reach out to us. Book a consultation or get started with Leadspanda to find out how we can help you. 
Any questions? Leave a comment below or check out our LinkedIn or Twitter.