A blog post's shelf life doesn't end once it's published. In fact, if you know how to repurpose content, you can extend the life of every piece you publish. 
Start by taking a look at your "hall-of-famers." Which posts would you consider your best? Which ones got the most shares, the most comments, and the most engagement in general? If you take a look at your blog archives, you may realize that you have a lot of helpful, popular, and highly usable material—it would be such a waste to just leave it in your archives, forgotten. 
This is why repurposing content is such an enticing prospect for content marketers. By breathing new life into old content, you can gain more value from your best posts and maximize the return on the investment of time and resources you originally put into it. You also have a big head start in the content creation process. 
The Advantages of Repurposing Content
When it comes to content marketing, time is a limited and very precious resource. That's the best thing about repurposing content—you're saving a lot of time. 
In this field, the creative aspect is the most important and most time-consuming part of the creation process. But if content marketers are smart about it, they don't necessarily have to spend all their time creating content. They just have to know how to get the content that they already have in front of more people. 
Additionally, repurposing content can help: 
Give your page an SEO boost by refreshing keyword use. 

Reach a new audience by adding new keywords and phrases that may attract new audience demographics. 

Reinforce your core messaging and make sure your communication sinks in. 

Boost authority in your niche by publishing material that you know is effective and resonates with your target audience. 
Finding Content You Can Repurpose
Knowing that content repurposing works, your next step now is to understand where to find material that's worth reposting. 
The first place you can go is your blog archives. Take a look at your history of published posts and keep an eye out for the following: 
What posts feature evergreen content? 
Evergreen content is the kind of material that can withstand the test of time. You might be surprised how much of your previously published content fits into this category—you just have to make sure it's timeless (remove references to dates or events that may confuse readers) so it will remain relevant. It must also be informative and well written so it can attract attention and prevent bounces. 
When in doubt, you can refer to this post from CSS-Tricks. It's a great example of evergreen content—the post was written back in 2009 but remains useful and relevant to this day.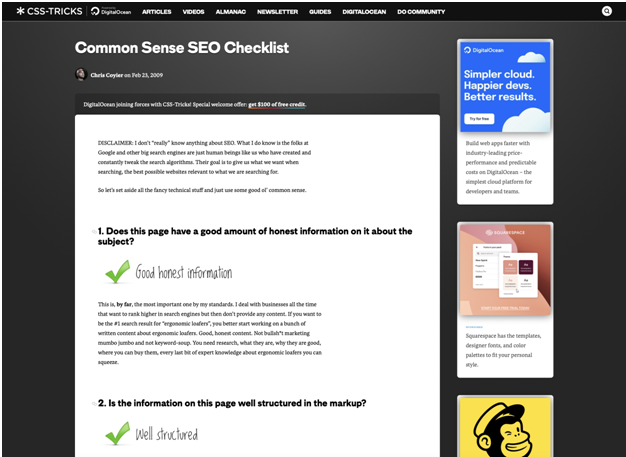 What posts are most popular? 
Take a look at your site analytics to determine what posts did well in the past year. Identify which content got the most engagement such as views and shares.  
Do you have more to say about the subject matter? 
As you browse through your archives, pay close attention to articles you think you can improve. Maybe some topics have evolved through the months or years and an update would be helpful. Maybe you have gained additional insight on the subject matter since you last wrote about it and could use that to give your audience a refresher. 
Top Ways Content Marketers Can Repurpose Content
1. Create Multiple New Posts From Longer Old Ones
High-quality content can be the basis of a smaller series of content. Simply take a list post that you've previously created, which will usually be lengthier, and cut it up into multiple posts on each subject. You can then add additional information to expand each post in the series if needed. This will allow you to discuss each point in greater detail and tackle other angles that you may not have been able to flesh out in the original article.  
2. Create a Visual Presentation
Old posts that feature statistics, quotes, and other actionable points can form the basis for effective slideshares. The resulting presentation can serve as an easy-to-read recap of your original post and is easily shareable.
You can use free tools such as Canva (and their numerous templates) to craft your presentation. Once the presentation is ready, you can finalize the deck on PowerPoint, Prezi, or Google Drive, share it on social media and include it in your original post. 
3. Create An Infographic
A concise, visual way to repurpose content is to create infographics—a complete summary of your entire post in a single, shareable, visual piece of content. If your source material has a lot of data and statistics, this is a great way to visualize information and make it more compelling to read and share.
Helpful platforms such as Piktochart and Visually make it easy for non-designers to create their own infographics despite having limited design experience. 
4. Refresh and Republish Old Posts
Once in a while, you will find old blog posts that were well-written and extensively researched but contain information that is dated and irrelevant. In such cases, a few small tweaks can make a world of difference. Give the post a thorough read-through and make the necessary changes. Refresh the post media by adding new images, graphics, or videos that are more timely and up to date. 
Remember, times change and even posts that you know were 100% relevant and correct when they were published are likely to succumb to evolving times. It's nothing that you can't manage with a few careful updates, however. 
Do You Have More Ideas On How You Can Repurpose Content? 
Repurposing content is so much more than republishing old material. It means updating old content to make it fresh and appealing to a new audience. If you have any more ideas on how to repurpose content, feel free to share them in the comment section below. 
If you want to learn more, reach out to us. Book a consultation or get started with LeadsPanda to find out how we can help you. 
For any questions, leave a comment below or check out our LinkedIn or Twitter.