There are numerous reasons why a business would use a landing page—to inform, to promote something, to increase sales, to communicate product or service value. To put it simply, businesses use a landing page because it's a very effective marketing strategy.  
Consider these statistics:
"Businesses with over 40 landing pages generated a whopping

12 times more leads

than those with 1-5 landing pages."

"Companies see a

55% increase in leads

when increasing their number of landing pages from 10 to 15."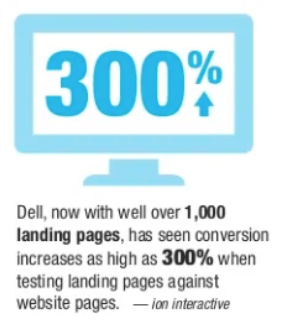 Given these numbers, the question really is why wouldn't you use a landing page? The potential returns of making the effort to create a well-designed highly strategic and well-written landing page are enormous. If you want to go into more detail, here are my main reasons why including landing pages should be a part of your marketing strategy:
1. To boost brand awareness
There are a lot of factors that go into your landing page—mostly because you have to be very strategic about how you approach its different elements. Regardless of how you approach it, keep in mind that the visuals, copy, and overall user experience will speak about your brand. By ensuring consistency across all your branding points, your landing page can help boost awareness about your business.
2.  To boost your conversions
Your landing page is designed for one purpose—to inspire your audience to take positive action on your call-to-action (CTA). It maps out the different steps towards the next steps that users have to take, which makes it simple and easy for audiences to convert.
Because of how focused the landing page is towards getting audiences to pay attention to the CTA and then click on it, it usually results in higher conversions.
3. To gather insightful data
You can easily keep track of critical metrics to provide useful and insightful data to help improve your landing pages. For example, linking your landing page to a specific source—a blog or a social media post for example, or an ad—can help you understand what's driving people to your landing page. This allows you to tailor messaging to make it more relevant for your audience.
You also have the option to monitor how users interact with your landing page by tracking user behavior to help refine your strategies and deliver better landing page results.
4. To increase your brand credibility
Remember that landing pages are designed to facilitate audiences to click on your CTA. For businesses, this means doing everything you can to create a clear, step-by-step process so their audience's next steps are clear, ensuring your landing page content is relevant; and ensuring a seamless user experience. Doing so helps communicate your brand's commitment to deliver a great brand experience.
Bottom line?
Landing pages work. If you want to know how you can effectively implement landing pages for your business, do give me a call at Leadspanda.