Being a small- to medium-sized company means you're likely trying to maximize your marketing budget so you can keep up with your bigger competitors. For many, this means doing a lot of critical marketing tasks yourself—including core content marketing activities such as content production. 
While it may seem like a cost-effective option, it does take team members' time and attention away from other areas of the business where they could be more effective and productive. 
In such cases, many companies consider outsourcing content creation as a sustainable option. 
What is Content Creation Outsourcing?
When a company outsources content creation, they hire an external person or agency to create original content for their needs. True, it's an added cost and will require resources from your team members to manage. However, having a reliable team or person to craft industry-specific content for you can deliver better results.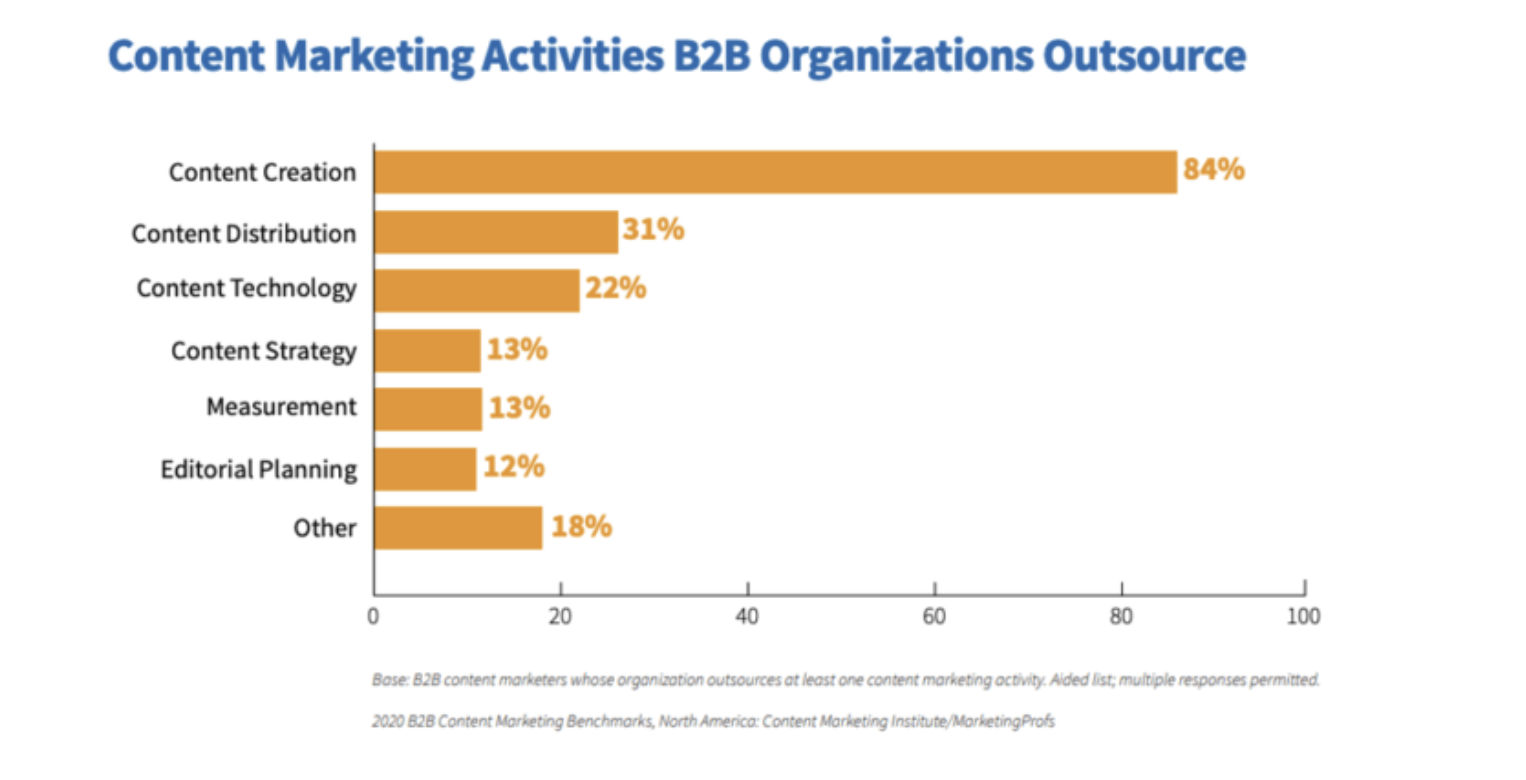 Should You Outsource Content Creation? 
If it's more effective, is it worth paying to outsource content creation? 
Many companies will say no because of preconceived notions they have about outsourcing. Often, they assume it's expensive, and they think they'll lose creative control when they hand over the reins to a third party. However, finding the right content creation partners means you don't have to worry about these concerns. There's a reason a recent study found that 81 percent of marketing professionals said they outsource content writing. 
Here are some key advantages of outsourcing content that you should definitely take note of: 
1. Outsourcing Content Creation Can Help You
Save
Money
When you're doing all the work internally, it's easy to think you're saving money because you don't have to pay additional fees to create content. However, you're also taking time away from team members who could be focusing their efforts on core tasks that require their specialized skills. You're losing money in the interest of saving a few dollars on content production.  
When you hire an external organization to write content for you, there is a cost associated with that. If you're hiring a freelancer, you have to pay their wages, usually on an hourly basis; and if you're engaging an agency, you have to subscribe or pay a retainer, usually on a monthly basis. But in return, you're sure that you're getting content from an expert who can optimize your material and follow best practices to make sure you meet all your content goals.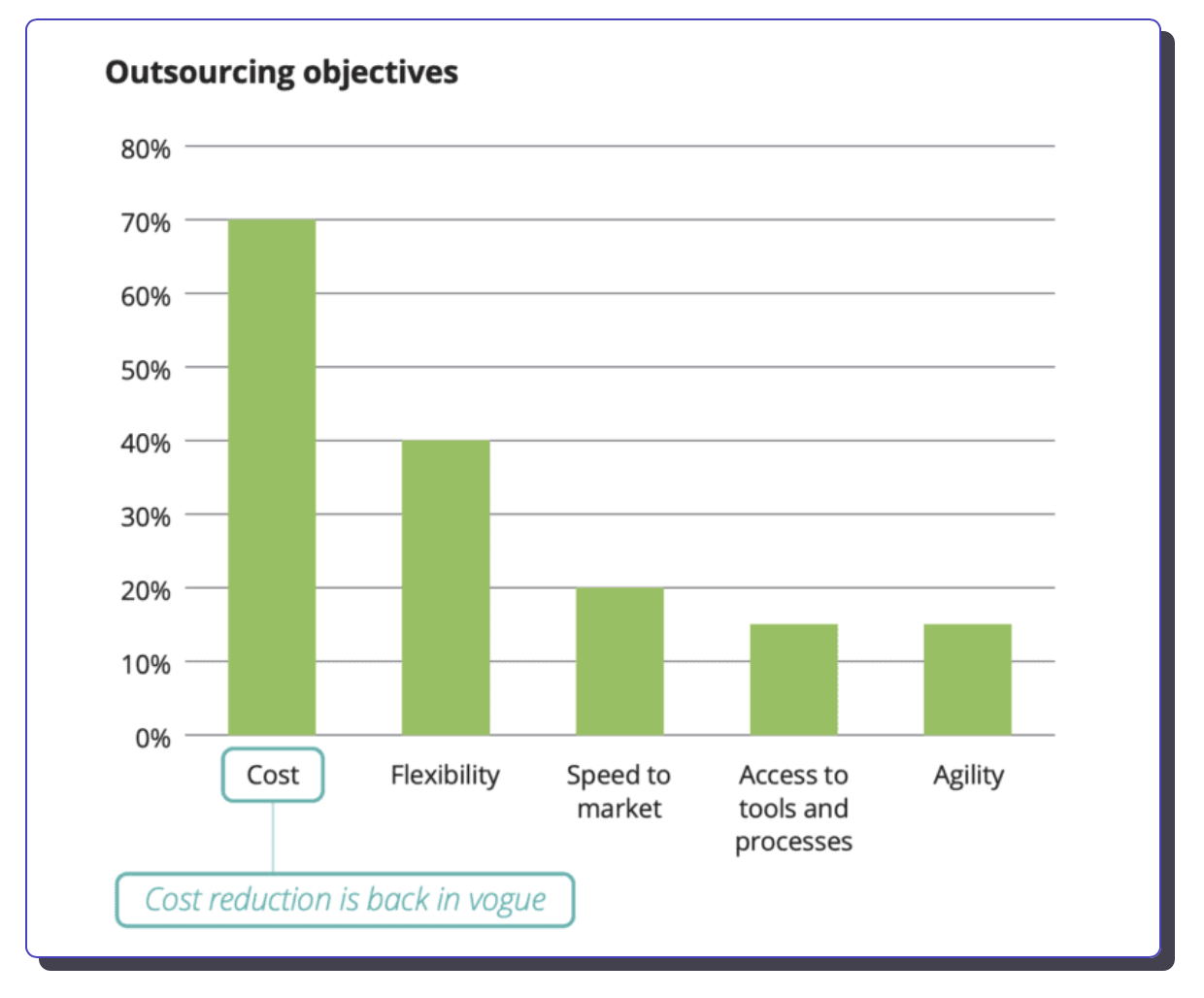 2. Outsourcing Can Help You Publish Content Regularly
Consistency is critical to successful content marketing. One of the many advantages of outsourcing content production is having the ability to regularly publish content that will keep you top of mind for your audience. 
This is especially important if you're a small or medium enterprise without the resources to hire an in-house team to handle writing and editing. If you're doing everything internally, these tasks will go at the bottom of your operational to-do lists and often fall to the wayside. By the time you're ready to publish something, weeks, if not months have already passed, and you'll realize that you've lost any momentum you'd previously built. 
According to studies, posting once a day on social media is critical to ensuring that your audience is engaged; and publishing a blog post at least two times a week delivers the highest traffic and conversions. You simply can't focus on content creation when you're also busy running a business. Outsourcing can take this task off your full plate while ensuring quality. 
3. Outsourcing Can Give You Access to Industry Writers
Content creation is both an art and a science. While you and your internal team members may be experts in your niche and industry, your ability to write something engaging and effective may be lacking. 
Outsourced content creators will usually have a team of industry-specific writers who are not only trained to write effectively for online platforms, but also have specialized knowledge in your field. If they don't, they'll know how to carefully study a subject matter or industry and work with you to obtain key information about your company to ensure that they're able to produce content that meets your expectations of quality and authority. 
4. Outsourcing Content Creation Can Help You Meet Your Business Goals
Outsourcing content creation to experts means you're putting content production in the hands of SEO experts who are creative writers, trained in the art of capturing the attention of your readers and communicating to them in a relatable way. This makes the content much more effective. They'll know how to reach your target audience and come up with ideas and angles that can best help you meet your goals. 
There's also the advantage of getting a fresh perspective of your industry or business from an outside, objective party who can help bring in new audiences and assist you in brainstorming ideas for content.  
3 Tips For Working With Professional Content Creators
To maximize the effectiveness of your content creation dollars, take the following into consideration: 
1. Remember To Set Clear Goals 
What do you want to achieve with an outsourced content partner? What is the volume of content that you want to produce? Will you require a content specialist with more in-depth knowledge of the industry or your niche? 
Setting your goals gives you a more realistic picture of how much you're going to have to spend. Depending on how many content pieces you require and how specialized your content is, the cost of content production will vary.
2. Dedicate Time to Brief and Guide Your Content Partner  
Any new partnership will require investing some time and effort to make sure you're aligned in terms of communication goals and objectives. They should operate as a part of your team and know the ins and outs of your organization, your products, and your services. 
This isn't something you can achieve overnight. You have to take the time to nurture this relationship so you can communicate your objectives clearly.  
3. Test Your Writers
Finding a content partner doesn't have to be complicated. Usually, a test blog post on a given topic can help you determine if they're a good fit for your company. If you're working with a freelancer, try giving them a test article to write. If you're working with an agency, see if they offer their first article for free to see if they meet your quality standards. 
Staying on top of your content goals doesn't have to be complicated. Reach out to us and book a consultation or get started with LeadsPanda to find out how we can help you. 
For any questions, leave a comment below or check out our LinkedIn or Twitter.